Pittsburgh comedian/radio announcer Jim Krenn of 92.9 The Point produced a music video dedicated to the recent announcement  regarding the return of Jagr's Mullet. Based on the song "Sexy Back," Krenn and crew have created "Mullet Back." Sung by Penguins center Evgeny Malkin (or someone who really sounds like him) the song celebrates the news that Jagr has decided to bring back his famous "Samson" look of the 90's. Jagr told George Richards of the Miami Herald that he cut it in the late 90s to appease a girlfriend, (who hasn't done that–still doesn't bring happiness) and that his deadly scoring touch went with it. Now, the mere mention of growing it has resulted in four goals in five games. Years ago when Krenn worked for another radio station in Pittsburgh Krenn's show presented the weather with Jagr doing the forecast in a choppy spliced together clips creating a more sensible forecast than you hear on other stations. Particularly ominous was the possbility of  "thunder showers" in a thick Czech accent.  A tip of the mullet to Krenn and Company for their musical achievement! Give Jim a follow at @JimKrenn and his station a follow at @Q929FM (okay, it's not South Florida but it's a good station anyway).
In other hair news, which we'll periodically share with you on an off day, a Florida Panthers fan  is tracking the growth of Jagr's hair with the mullet tracker. To monitor the growth of Jagr's mane, just type in "Mullet Tracker" in the search block on Twitter. I did, and look what happened:
@CaGrega Retweeted Hockey Unfiltered
The mullet tracker getting plenty of air time on @HockeyUnfilterd by @ToddLewisSports #FlaPanthers #CatsAreComing
CaGrega added,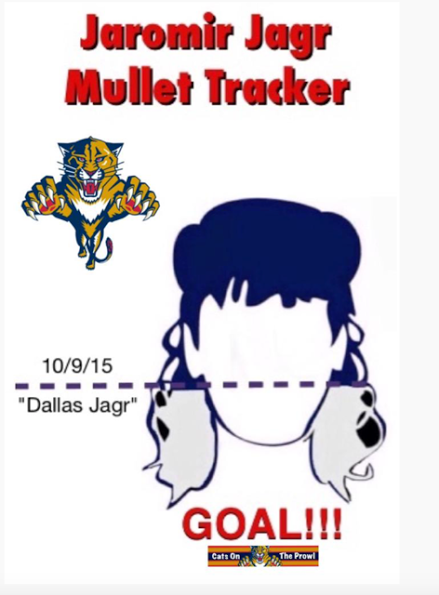 Thanks for retweeting that @CaGrega
 Jagr and the Panthers (3-2) play the Penguins (2-3) in Pittsburgh Tuesday, October 20, 2015. The hair has a lot of growing to do. Kind of like the proverbial pot on the stove, a watched Mullet never grows.
Here's your Jagr-O-Meter to start the week. The Panthers play a @JimmyBuffett schedule this week with games Tuesday (at Pittsburgh), Thursday (at Chicago) and Saturday (at Dallas).
Live reporting from Consol Energy Center Tuesday night from a section To Be Determined.
Ray Haluska aka Kladno Jagr, curator of the Jagr-O-Meter
https://twitter.com/CruisingRay or email ROKINRAY@AOL.COM