TAMPA BAY–Veteran goalie Roberto Luongo got stronger as the evening got longer as the Florida Panthers (7-7-3-17) defeated the Tampa Bay Lightning (8-8-3-19) Saturday night 5-4 in game decided by a shootout goal by Florida's Brandon Pirri at Amelie Arena in Tampa.  In the second period Pirri used similar skills to  score on a penalty shot after being pulled down on a breakaway.
After struggles in first half of the game resulted in two goals for the Lightning, Luongo stopped Lightning star Steven Stamkos on a penalty shot in overtime. Proving that play was no fluke he stopped  Lightning attempts in the shootout by Victor Hedman, Brian Boyle and finally Valtteri Filppula to secure the victory for Florida.
Other Florida goals were also thrilling, like Nick Bjugsted's breakaway in the second period, and timely, as Aaron Eckblad's point shot found it way behind Lightning goalie Ben Bishop with 0:38 remaining in regulation and the Panthers on a power play with Luongo pulled to force the overtime. Early in the game Jussi Jokinen scored for the Panthers in the start of a rare "no lead is safe" game that saw three lead changes. Scoring for the Lightning were Vladislav Namestnikov who scored two and almost had a hat trick, as well as Cedric Paquette and Anton Stralman. Stamkos had two assists for Tampa Bay.
Highlights and a statistical summary of the game from nhl.com can be viewed here:
http://www.nhl.com/gamecenter/en/recap?id=2015020251&navid=sb:recap&intcmpid=sb-highlights
The two teams meet again Monday night at BB&T Center in Sunrise, FL.
Jaromir Jagr milestone: Jagr played in his 1565th NHL regular season game, breaking a tie with Niklas Lidstrom for  10th all time. If Jagr stays healthy he could catch #9 Ray Bourque (1612) and #8 Larry Murphy (1615) this season. No points for Jagr in this game, which produced a rare win for Florida when he is held scoreless.
This week Florida hosts Tampa Bay (monday) Anaheim (Thursday) and the New York /Rangers (Saturday) at begining of a five-game homestand that will also include Los Angeles (Monday, Nov. 23) and the New York Islanders (Friday, Nov. 27).
Seats for these and future Panthers home games available at http://www.floridapanthers.com.
Updated Jagr-O-Meter
Before the game Jagr showed his support for the victims of the terrorists bombs and shootings in Paris with a twitter post.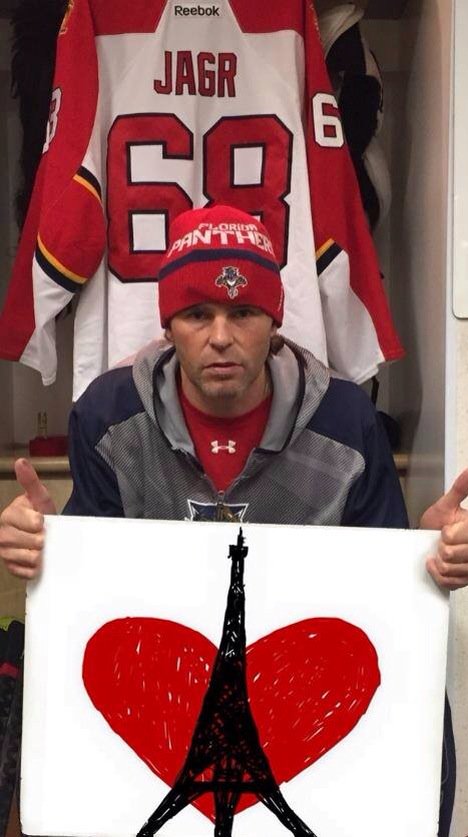 I hope the world can become a happier place some day. We all have blessings to be thankful for, life being the biggest of all.
Assorted Jagr-related links:
Florida Panthers 2015-16 Media Guide
http://panthers.nhl.com/v2/ext/Florida201516MediaGuide_web.pdf
Florida Panthers Team website: http://www.floridapanthers.com
Some Jagr-related  social media accounts:
@68Jagr  This is the real site,  the one and only official Jaromir Jagr twitter account. Postings are rare.
The two best Jagr facebook pages are:  https://www.facebook.com/68Jagr/   This is the page Jagr posts on, if he is going to post at all.
Another good facebook page is one produced by someone in the Czech Republic. It has more than 100,000 likes. This is not the official page, but it is very good.
https://www.facebook.com/JaromirJagrfan/?fref=nf
@FlaPanthers and @FLAPanthersPR  The official twitter accounts for news about the team.
@dougielarge  Doug Cifu, few owners in sports relate to the fans as much as this man who interacts with fans and media on twitter.
@goldieonice  — Steve Goldstein, TV play-by-play of the Panthers. Brings all those exciting highlights to life.
@DenisPotvinFox — NHL Hall  of  Famer Denis Potvin works along side Goldstein in the booth.
@HeyRedDeer color man Randy Moller who left the radio booth to help Goldstein and Potvin on TV.
@GeorgeRichards  Panthers beat writer for the Miami Herald.
@HFialkov Panthers beat writer for the Sun Sentinel
@AntwanStaley Includes Panthers coverage in his all sports all the time reports
@Cats0ntheprowl twitter for Cats On the Prowl, offering detailed reviews of Panthers  games and more.
@SunshineSkate twitter for The Sunshine Skate, another blog with special emphasis on advanced stats and charts that will make you dizzy.
@Zdenek_Janda  US-based Czech reporter who covers the NHL and reports on other news for the people of the Czech Republic.
@Jsmidcro    Jan Smid was a US-based Czech reporter who collaborated on "Jagr", an autobiography in the late 90's detailing Jagr's early life and career in the NHL.
@NHLHistoryGirl This hockey loving woman shares interesting informational tidbits about hockey and the NHL in general. How does she do it?
@MyRegularFace  She's another gem. Watches lots of games and gets up GIFs faster than nhl.com or anyone else out there.
Quant Hockey: Career stats updated game by game by a hockey lover in Europe. Site enables you to find career leaders in any offensive category by clicking on the category you are researching.
http://www.quanthockey.com/nhl/records/nhl-players-all-time-points-leaders.html
@rytiriKladno The Kladno Hockey Club: Before coming to the NHL Jagr played for this team in the Czech league as a teenager. Now he owns the team. It's in Czech  but some devices can translate to English.  Follow them at:
@HockeyCzech  National organization for hockey in the Czech Republic.
@68isgr8  is the twitter for The Traveling Jagrs. Clad in different Jagr jerseys and hair styles from 68's career, they gained league-wide recognition when they caught Jagr's attention during a pre-game skate of a Dallas Stars game in Canada during the 2012-2013 season. Since then, they convene at games in Western Canada and make a road trip or two every year, playing street hockey with locals, posing for hundreds of pictures, and having a good time with fans while honoring an all-time NHL legend.
https://twitter.com/search?q=traveling%20jagrs&src=savs.
Ray Haluska aka Kladno Jagr, curator of the Jagr-O-Meter