NASHVILLE–Goals by Quinten Howden and Jonathon Huberdeau were enough for the Florida Panthers to snag a 2-1 victory over the Nashville Predators. Florida goalie Roberto Luongo saved 32 of 33 shots to raise his record to 10-8-3. The Panthers 12-9-4 play at Columbus Friday night.
Roman Josi scored for Nashville off a long deflection, and Pekka Rinne saved 14 of 16 shots but had a lot of help from his team who blocked many attempts by the Panthers.
Highlights of the game from NHL.com can be viewed here:
http://video.nhl.com/videocenter/console?hlg=20152016,2,378&navid=sb:highlights
Following Friday night's game at Columbus, the Panthers finish their five-game road trip Sunday in New Jersey. Their first home game in December will be Tuesday vs. Ottawa at BB&T Center. It will be the first of two visits by the Senators to Fort Lauderdale this month. Six of the Panthers  last 10 games this month will be at home.  Other teams visiting South Florida this month include Washington, Vancouver, Columbus and Montreal  and the Panthers have some great gift and ticket packages available at http://www.floridapanthers.com.
Jaromir Jagr was held without a point for the third straight game, his longest drought since joining the Panthers. Heading into the weekend he sits at 730 goals, one shy of tying Marcel Dionne for fourth all time. For the season Jagr still leads the Panthers in scoring with 8 goals and 10 assists for 18 points. He is one of 10 Panthers with 10 or more points through 25 games. Jagr missed two of those games to injury and has played others at less than 100%.
NHL.com reported that entering Thursday's game Jagr is outscoring 88% of the league's forwards this season:
(EDITOR'S NOTE: DUE A CUT AND PASTE ERROR , The story intended to share here will be published tomorrow).
The latest Jagr-O-Meter:
Maybe there will there be an update to the Jagr-O-Meter tonight as #ChasingGordie1850 continues
The latest Atlantic Division Standings. While fifth in the division Florida's 28 points are tied with Boston and Metro division New Jersey. Tie breakers favor the Bruins and Devils at this point for the second wild card spot, which won't be finalized until April.
Admiration Society:  
Reaves on facing Jagr: "Those 43-year-old legs seem to be doing well. I'm going to try and get these 28s going." #stlblues #FLAvsSTL
Also from Twitter, an excerpt from the excellent article in Canada's Sportsnet magazine:
Jaromir Jagr on retirement. This guy is a beauty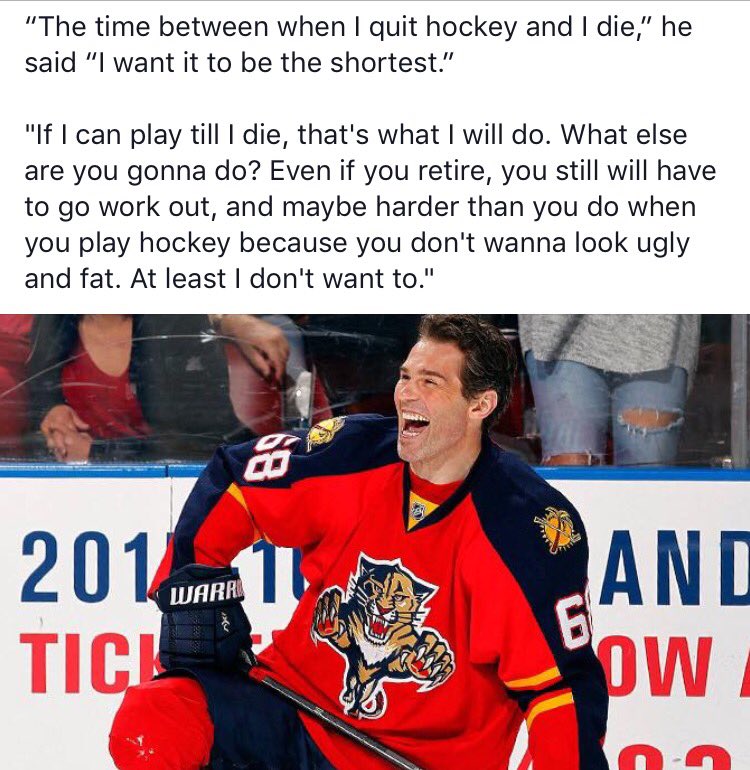 Getting the article isn't easy, but I finally managed to download it onto my Windows phone. This link from author Kristen Rutherford gives an overview of her lengthy article.
No word from Sportsnet on if we can get some copies shipped to the USA for at cost distribution to readers of Jagrometer.com
Assorted Jagr-related links:
Florida Panthers 2015-16 Media Guide
http://panthers.nhl.com/v2/ext/Florida201516MediaGuide_web.pdf
Florida Panthers Team website: http://www.floridapanthers.com
Some Jagr-related  social media accounts:
@68Jagr  This is the real site,  the one and only official Jaromir Jagr twitter account. Postings are rare.
The two best Jagr facebook pages are:  https://www.facebook.com/68Jagr/   This is the page Jagr posts on, if he is going to post at all.
Another good facebook page is one produced by someone in the Czech Republic. It has more than 100,000 likes. This is not the official page, but it is very good.
https://www.facebook.com/JaromirJagrfan/?fref=nf
@FlaPanthers and @FLAPanthersPR  The official twitter accounts for news about the team.
@dougielarge  Doug Cifu, few owners in sports relate to the fans as much as this man who interacts with fans and media on twitter.
@goldieonice  — Steve Goldstein, TV play-by-play of the Panthers. Brings all those exciting highlights to life.
@DenisPotvinFox — NHL Hall  of  Famer Denis Potvin works along side Goldstein in the booth.
@HeyRedDeer color man Randy Moller who left the radio booth to help Goldstein and Potvin on TV.
@GeorgeRichards  Panthers beat writer for the Miami Herald.
@HFialkov Panthers beat writer for the Sun Sentinel
@AntwanStaley Includes Panthers coverage in his all sports all the time reports
@Cats0ntheprowl twitter for Cats On the Prowl, offering detailed reviews of Panthers  games and more.
@SunshineSkate twitter for The Sunshine Skate, another blog with special emphasis on advanced stats and charts that will make you dizzy.
@Zdenek_Janda  US-based Czech reporter who covers the NHL and reports on other news for the people of the Czech Republic.
@Jsmidcro    Jan Smid was a US-based Czech reporter who collaborated on "Jagr", an autobiography in the late 90's detailing Jagr's early life and career in the NHL.
@NHLHistoryGirl This hockey loving woman shares interesting informational tidbits about hockey and the NHL in general. How does she do it?
@MyRegularFace  She's another gem. Watches lots of games and gets up GIFs faster than nhl.com or anyone else out there.
@KrRutherford Kristina Rutherford wrote a great article for Canada's sportsnet magazine.
Nigel Buchanan, whose superhero treatment of Jagr in his art for sportsnet magazine is one of the many efforts he has on display at http://www.nigelbuchanan.com.
Quant Hockey: Career stats updated game by game by a hockey lover in Europe. Site enables you to find career leaders in any offensive category by clicking on the category you are researching.
http://www.quanthockey.com/nhl/records/nhl-players-all-time-points-leaders.html
@rytiriKladno The Kladno Hockey Club: Before coming to the NHL Jagr played for this team in the Czech league as a teenager. Now he owns the team. It's in Czech  but some devices can translate to English.  Follow them at:
@HockeyCzech  National organization for hockey in the Czech Republic.
@68isgr8  is the twitter for The Traveling Jagrs. Clad in different Jagr jerseys and hair styles from 68's career, they gained league-wide recognition when they caught Jagr's attention during a pre-game skate of a Dallas Stars game in Canada during the 2012-2013 season. Since then, they convene at games in Western Canada and make a road trip or two every year, playing street hockey with locals, posing for hundreds of pictures, and having a good time with fans while honoring an all-time NHL legend.
https://twitter.com/search?q=traveling%20jagrs&src=savs.
Ray Haluska aka Kladno Jagr, curator of the Jagr-O-Meter
Tweet your new stories, photos, artwork and songs to @Cruising Ray or email me at ROKINRAY@aol.com