SUNRISE–The Florida Panthers pulled to within one point of first place Montreal following a thrilling 2-1 shootout victory over the Ottawa Senators Tuesday night in their final game before the league-wide three-day Christmas Break. The win pushes Florida's  record to (19-2-4-42). Losses by six Atlantic Division rivals sees five teams separated by three points!
For Jaromir Jagr, some of the break will be used to address the four broken teeth he suffered when he was clipped by Alex Chiasson in the mouth in the first period. The two were teammates in Dallas, and even though his mouth was bleeding Jagr gave Chiasson a pat on the back before heading to the lockerroom.
It only adds to Jagr's legendary status that he returned to the game, assisted on the Panthers only goal in regulation, then nearly won the game on a breakaway with three seconds remaining in over time. It has been common to suggest that Jagr has lost  speed, but put a puck on his stick and an open lane to the goalie and Jagr finds an afterburner he saves for such an occasion.
Jagr: "I lost some teeth, but I increased my speed…I don't want to hear anything about being slow, because I had a breakaway."
Jagr has had some bursts of speed against Ottawa before. Last season he scored a wraparound goal on a two-on-one break.
Here's the before and afters of the unpenalized  incident that is going to produce a nice payday for a South Florida dentist. Jagr was smiling pretty after scoring his 732nd career goal in Florida's 5-4 over Vancouver Sunday.
After the game Tuesday shared this updated profile photo. Looks more like Halloween or Fangsgiving than Christmas: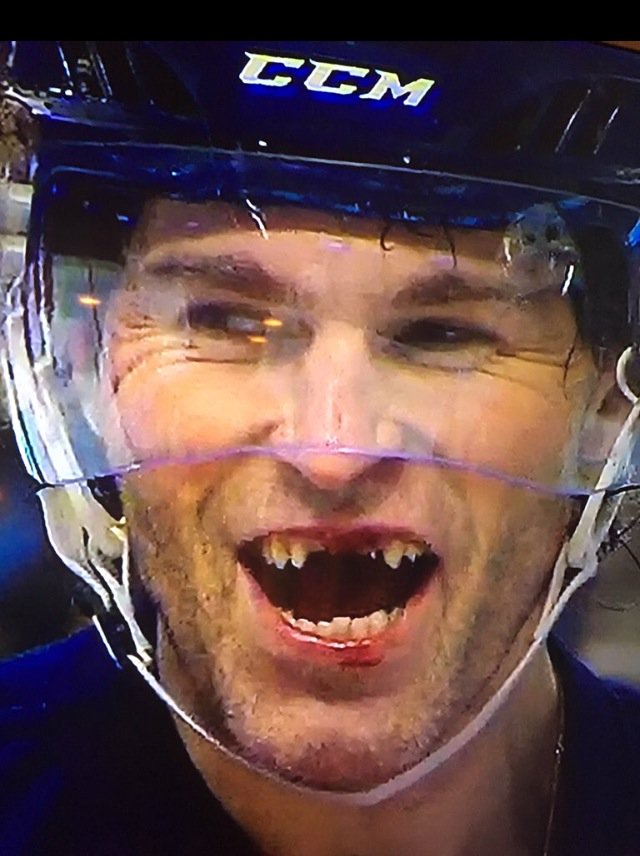 Dear Santa, can I get a new teeth for Christmas 🙂 it's going to be tough to eat-good -at least I don't get fat :)))
Lots of comments on this on Jagr's personal facebook page. I always get a kick out of the translations.
https://www.facebook.com/68Jagr/?fref=ts
If you have to see the video, yahoo sports shared it in their report on the incident.
http://sports.yahoo.com/blogs/nhl-puck-daddy/jaromir-jagr-cut-by-alex-chiasson-high-stick–photo-011630207.html
Perhaps Jagr will be wearing full-facial protection when the Panthers resume action Sunday, Dec. 27 at BB&T Center following the Christmas break.
The Panthers goal was scored by Corbin Knight, his first of the season. With Florida in a line change gathered the puck at center ice crossed the blue line. Before heading to the bench he pushed the puck to Quinton Howden, who sent Knight in for the score.
Florida outshot Ottawa 40-16, as Craig Anderson stopped nearly all the Panthers shots to force overtime. The Senators goal came early in the third period when Mark Stone tied the game off a deflection of Erik Karlsoson point shot with Ottawa on the powerplay. Roberto Luongo stopped two Senators in the shootout, before Aleksander Barkov clinched the game with his fourth straight shootout goal, and each of his four attempts has been a game clincher. You can see Barkov's goal and other highlights from NHL.com:
http://video.nhl.com/videocenter/console?hlg=20152016,2,511&navid=sb:highlights
#CHASINGGORDIE1850 The assist by Jagr was his 15th of the season and 1095th of his career giving 25 points and 1827 career points as he whittles his way to Gordie Howe's third all-time best total of 1850.
A more detailed look at the game can be found in Harvey Fialkov's article in the Sun Sentinel.
http://www.sun-sentinel.com/sports/florida-panthers/fl-florida-panthers-senators-1223-20151222-story.html
The Panthers continue their six-game homestand which will carry them into 2016 on home ice with games Dec. 27 with Columbus, Dec. 29 (Montreal), Jan. 2 (New York Rangers) and Jan. 3 (Minnesota). Tickets for these and all Panthers home games available at http://www.floridapanthers.com.
Jagrometer.com will continue to post during the Christmas break.
Assorted Jagr-related links:
Florida Panthers 2015-16 Media Guide
http://panthers.nhl.com/v2/ext/Florida201516MediaGuide_web.pdf
Florida Panthers Team website: http://www.floridapanthers.com
Some Jagr-related  social media accounts:
@68Jagr  This is the real site,  the one and only official Jaromir Jagr twitter account. Postings are rare, but worth the wait. Jagr has been more active on Twitter this season.
The two best Jagr facebook pages are:
https://www.facebook.com/68Jagr/?fref=ts
 This is the page Jagr posts on, if he is going to post at all.
Another good facebook page is one produced by someone in the Czech Republic. It has more than 100,000 likes. This is not the official page, but it is very good.
https://www.facebook.com/JaromirJagrfan/?fref=nf
@FlaPanthers and @FLAPanthersPR  The official twitter accounts for news about the team.
@dougielarge  Doug Cifu, few owners in sports relate to the fans as much as this man who interacts with fans and media on twitter.
@goldieonice  — Steve Goldstein, TV play-by-play of the Panthers. Brings all those exciting highlights to life.
@DenisPotvinFox — NHL Hall  of  Famer Denis Potvin works along side Goldstein in the booth.
@HeyRedDeer color man Randy Moller who left the radio booth to help Goldstein and Potvin on TV.
@GeorgeRichards  Panthers beat writer for the Miami Herald.
@HFialkov Panthers beat writer for the Sun Sentinel
@AntwanStaley Includes Panthers coverage in his all sports all the time reports
@Cats0ntheprowl twitter for Cats On the Prowl, offering detailed reviews of Panthers  games and more.
@SunshineSkate twitter for The Sunshine Skate, another blog with special emphasis on advanced stats and charts that will make you dizzy.
@Zdenek_Janda  US-based Czech reporter who covers the NHL and reports on other news for the people of the Czech Republic.
@Jsmidcro    Jan Smid was a US-based Czech reporter who collaborated on "Jagr", an autobiography in the late 90's detailing Jagr's early life and career in the NHL.
@NHLHistoryGirl This hockey loving woman shares interesting informational tidbits about hockey and the NHL in general. How does she do it?
@MyRegularFace  She's another gem. Watches lots of games and gets up GIFs faster than nhl.com or anyone else out there.
@HockeyCzech  National organization for hockey in the Czech Republic.
@68isgr8  is the twitter for The Traveling Jagrs. Clad in different Jagr jerseys and hair styles from 68's career, they gained league-wide recognition when they caught Jagr's attention during a pre-game skate of a Dallas Stars game in Canada during the 2012-2013 season. Since then, they convene at games in Western Canada and make a road trip or two every year, playing street hockey with locals, posing for hundreds of pictures, and having a good time with fans while honoring an all-time NHL legend.
https://twitter.com/search?q=traveling%20jagrs&src=savs.
Ray Haluska aka Kladno Jagr, curator of the Jagr-O-Meter