SUNRISE–We should all be so lucky to get a package like this in the mail:
He's pumped for his new jersey.. Not sure he knows how cool it really is tho! Thanks for this @68Jagr #alltimegreats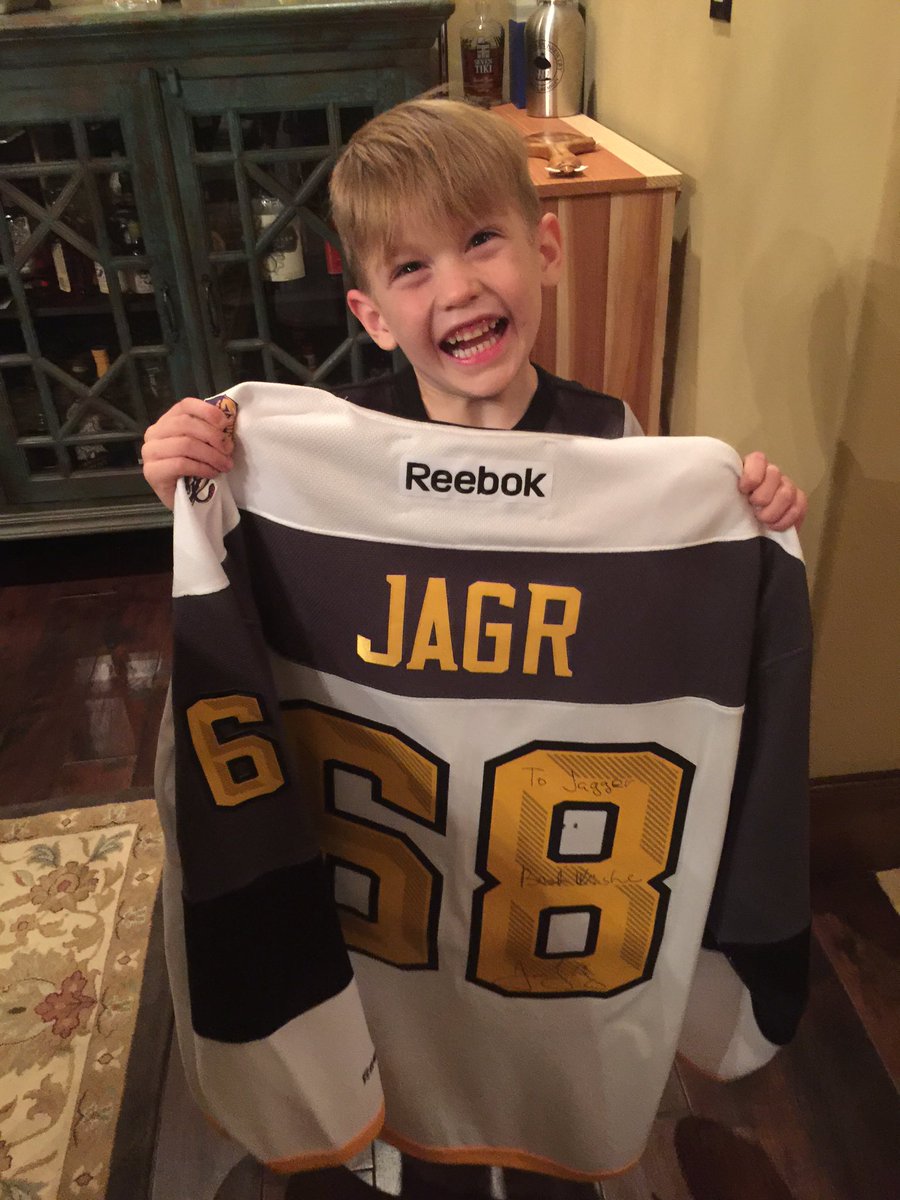 The Panthers open a six day homestand at the BB&T Center Friday night with the St. Louis Blues. Tickets for these and all future Panthers home games can be secured through panthers.nhl.com. Injured players Aleksander Barkov and Eric Gudbranson will not be available for Friday night's game but the team hopes they will be available soon.
Friday, Feb. 12  host St. Louis
Saturday, Feb. 13 host Nashville
Monday, Feb 15 host Pittsburgh (Jagr's birthday)
Thursday, Feb. 18 host San Jose
Saturday, Feb. 20 host Winnipeg
Thursday, Feb. 25 host Arizona
Florida has 28 games remaining. Following this stretch of games the Panthers will only have eight home games remaining in the regular season to go with 14 on the road.
Buffalo highlights, a la Goldstein: Hear Steve Goldstein call all 11 goals including seven by the Panthers in a 7-4 victory Tuesday night over the Buffalo Sabres. The package from earlier in the week featured the Sabres announcers.
http://panthers.nhl.com/gamecenter/en/recap?id=2015020795&navid=DL|FLA|home&navid=DL|FLA|home
Wins by Boston and Detroit have pushed them passed Tampa Bay and within six points of the first place Florida Panthers.
Jagr is closing in on two milestones–741 goals (Brett Hull–third all-time) and 1850 points (Gordie Howe, third all-time).  Some outlets are just catching on to these phenomenal accomplistments. At JAGRometer.com we publish the Jagr-O-Meter after every game and have been posting Jagr's accomplishments for several years now. Thanks for reading and sharing the site.
One of the Panthers blog sites, @fla_panthersnhl  recently noted Jagr has scored 23 goals and 33 assists in 71 games with the Panthers.  Here's some stats you won't find anywhere else:
That's a nice .788 points per game for the legend as a Panther.
Also, Among 120 right wings in the NHL, Jagr is tied for 12th with 38 points and 13th in goals with 17.
For our French readers:
This showed up several months after original publication when the Panthers and Jagr played a game in Philadelphia. In it Jagr explains how much he enjoyed playing for the Flyers in his first year back from the KHL.
http://www.nj.com/flyers/index.ssf/2015/10/jaromir_jagr_calls_his_one_season_with_flyers_perf.html
Our links below include some of the major contacts and a few significant articles this year concerning Jaromir Jagr. You are welcome to research back editions of JAGR0meter.com and to register for notification upon publication of the latest Jagr news. Please share this site with your friends.
Assorted Jagr-related links:
Florida Panthers 2015-16 Media Guide
http://panthers.nhl.com/v2/ext/Florida201516MediaGuide_web.pdf
Florida Panthers Team website: http://www.floridapanthers.com
Some Jagr-related  social media accounts:
@68Jagr  This is the real site,  the one and only official Jaromir Jagr twitter account. Postings are rare, but worth the wait. Jagr has been more active on Twitter this season.
The two best Jagr facebook pages are:
https://www.facebook.com/68Jagr/?fref=ts
 This is the page Jagr posts on, if he is going to post at all.
Another good facebook page is one produced by someone in the Czech Republic. It has more than 100,000 likes. This is not the official page, but it is very good.
https://www.facebook.com/JaromirJagrfan/?fref=nf
@FlaPanthers and @FLAPanthersPR  The official twitter accounts for news about the team.
@dougielarge  Doug Cifu, few owners in sports relate to the fans as much as this man who interacts with fans and media on twitter.
@goldieonice  — Steve Goldstein, TV play-by-play of the Panthers. Brings all those exciting highlights to life.
@DenisPotvinFox — NHL Hall  of  Famer Denis Potvin works along side Goldstein in the booth.
@HeyRedDeer color man Randy Moller who left the radio booth to help Goldstein and Potvin on TV.
@GeorgeRichards  Panthers beat writer for the Miami Herald.
@HFialkov Panthers beat writer for the Sun Sentinel
@AntwanStaley Includes Panthers coverage in his all sports all the time reports
@Cats0ntheprowl twitter for Cats On the Prowl, offering detailed reviews of Panthers  games and more.
@SunshineSkate twitter for The Sunshine Skate, another blog with special emphasis on advanced stats and charts that will make you dizzy.
@Zdenek_Janda  US-based Czech reporter who covers the NHL and reports on other news for the people of the Czech Republic.
@Jsmidcro    Jan Smid was a US-based Czech reporter who collaborated on "Jagr", an autobiography in the late 90's detailing Jagr's early life and career in the NHL.
@NHLHistoryGirl This hockey loving woman shares interesting informational tidbits about hockey and the NHL in general. How does she do it?
@MyRegularFace  She's another gem. Watches lots of games and gets up GIFs faster than nhl.com or anyone else out there.
@HockeyCzech  National organization for hockey in the Czech Republic.
@68isgr8  is the twitter for The Traveling Jagrs. Clad in different Jagr jerseys and hair styles from 68's career, they gained league-wide recognition when they caught Jagr's attention during a pre-game skate of a Dallas Stars game in Canada during the 2012-2013 season. Since then, they convene at games in Western Canada and make a road trip or two every year, playing street hockey with locals, posing for hundreds of pictures, and having a good time with fans while honoring an all-time NHL legend.
https://twitter.com/search?q=traveling%20jagrs&src=savs.
Ray Haluska aka Kladno Jagr, curator of the Jagr-O-Meter