NEW YORK–The Florida Panthers (40-23-9) visit the New York Rangers 40-24-8) in a game matching two teams battling for best seedings possible in the upcoming playoffs. The Panthers hold a two-point lead over Tampa Bay in the Atlantic Division, while the Rangers are locking horns with the sizzling Pittsburgh Penguins for second place in the Metro. The teams have matching recorders but the Penguins have the tie breaker edge and hold the second spot. A trip to Madison Square Garden is a homecoming for Jagr who set the club record for points (123) and goals (54) during his best season in Manhatten in the mid-2000s. Jagr (24-31-55) holds a two point lead over Jussi Jokinen as the Panthers leading point producer. 
The rest of this edition appeared Sunday afternoon and you can catch up with the latest Jagr news including video of the ceremony honoring #68 for passing Gordie Howe as the NHL's third all-time leading scorer.
SUNRISE–A power play goal late in the second period was the first of four straight scores by the Red Wings beat the Florida Panthers 5-3 Saturday night before a record crowd at BB&T Center.
The comeback win by Detroit tempered a two-pronged celebration as actor Kevin Spacey, of Spacey in Space fame was in attendance. A popular hooded sweatshirt with his head floating in outer space among the stars has been given to the Panthers player of the game since the "Spacey in Space" campaign started in December.
Before the game the NHL honored Jaromir Jagr for surpassing Gordie Howe when he recorded his 1851st point to become the NHL's third all-time leading scorer March 14 when the Panthers lost in overtime to Boston.
https://www.nhl.com/panthers/video/jagr-honored-for-points-milestone/t-277443714/c-42715203
There was no sweatshirt to give out after the loss though the actor Spacey did meet with the players afterward in the locker room.
https://www.nhl.com/gamecenter/det-vs-fla/2016/03/19/2015021072#game=2015021072,game_state=final,game_tab=wrap
The Atlantic Division was busy Saturday night but the Panthers are still in first place.
No point changes to the Jagr-O-Meter.
One of JAGRometer.com's twitter readers shared this article from Sportsnet:
http://www.sportsnet.ca/hockey/nhl/florida-panthers-shot-attempts-jaromir-jagr-trocheck-potvin-gerard-gallant-corsi-wins-shooting-percentage-lucky/
One of the more remarkable stats of the weeks also came from Sportsnet Stats on Twitter. We include that and another look at the highlights from NHL.com of the Panthers win Thursday night over Toronto.
Behold! Jaromir Jagr vs tonight's #Leafs lineup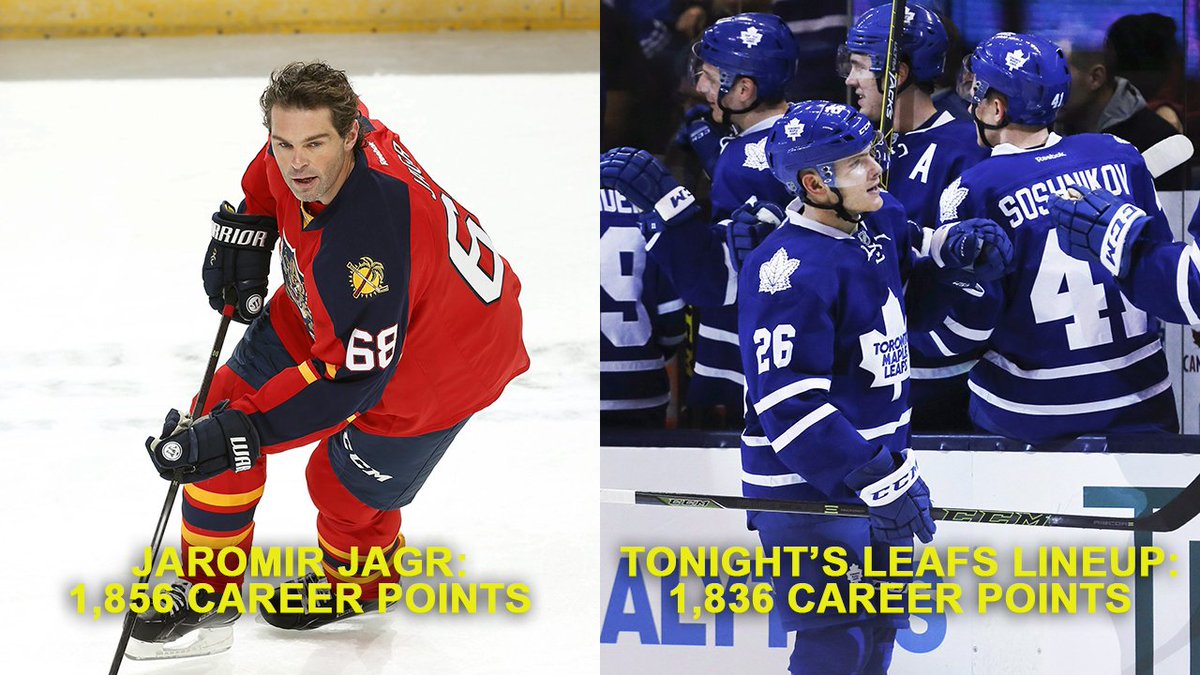 https://www.nhl.com/gamecenter/fla-vs-tor/2016/03/17/2015021056#game=2015021056,game_state=final
JAGRometer.com is produced by Ray Haluska, consultant for the book, "Jagr" by Jan Smid.
Contact Ray at rokinray@aol.com, Ray Haluska on Facebook or @CruisingRay on Twitter.