KLADNO–In his first facebook posting since September, 2017, Jaromir Jagr apologized to reporters for not meeting them at the airport and advised fans buying tickets that the excitement for his arrival caught him off  guard. The legend also advised fans that if they follow through with plans to buy tickets to understand he may be playing only a shift or two a game to participate in enough games to qualify for the playoffs.
From Jagr' facebook page, one of the longer comments he's ever posted.
https://www.facebook.com/68Jagr/
Without games photos we can share a few of the interesting photos that appeared on twitter postings talking about Jagr.
A medical examination looms as  the final administrative hurdle to get official clearance to play, Jagr confirmed he's been battling a knee problem for nearly two months, explaining the knee brace photographed at his locker for the Calgary Flames and confirming what long-time Jagr observers suspected.
Here's the link from the Czech Republic's source for news, Denik Sport. Translate if necessary.
https://isport.blesk.cz/clanek/hokej-domaci-souteze-prvni-liga/325343/jagr-po-navratu-do-ceska-popsal-sve-zraneni-a-varoval-fanousky.html?utm_source=onesignal
Until the end of time stories about Jagr and his accomplishments and his activities off the off will come out. This article discusses some of his times in Florida, including one chilling between periods ritual.
https://isport.blesk.cz/clanek/hokej-nhl/325224/jagr-nezapomenu-jak-strcil-hlavu-do-kade-ledove-vody-vzpomina-golman.html
Some more on his time with Calgary.
https://isport.blesk.cz/clanek/hokej-nhl/325189/jagr-dal-sbohem-a-jeste-otevrel-kouci-zdravy-dominoval-smekli-u-flames.html
Even from Pittsburgh, a writer calls for the few holdout angry fans to appreciate Jagr's time with the Penguins.
http://pittsburghhockeynow.com/jaromir-jagr-embrace-mullet-appreciate/
As has been reported for several days, there's great excitement for the return of Jagr to the Czech Republic. One reader of this site shared this on twitter which about sums up the sentiments of many.
Invisible Jagr. Is he in Prague? Hockey sticks and bags with the Calgary logo yes! Welcome back, hero @68Jagr!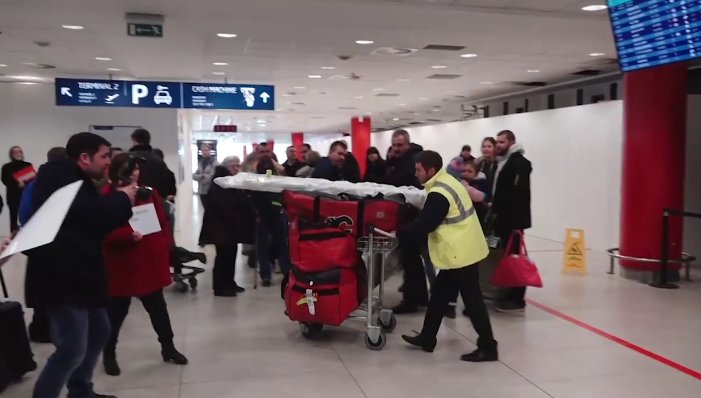 The latest Jagr-O-Meter. A new Kladno version will be created later this week.
A message for our Czech readers.
In recent years Czech fans, either visiting from Europe or USA-based, have been seen wearing the #68 Czech national team jersey, wearing wigs like the Travelling Jagrs and waving the Czech flag.  Most arenas will allow the flag if you wear it as a cape. Please visit the USA or Canada this year and feel free to write to me for advice on planning your trip. Air BnB is popular for those trying to get the most of their travel budget. Most NHL cities have other interesting things to visit to supplement your vacation to the USA and Canada with enriching experiences.
Assorted Jagr-related links:
Thanks for visiting JAGRometer.com, home of the Jagr-O-Meter, tracking Jaromir Jagr since he returned to the NHL from Russia. Subscribe free and get the latest edition as soon as it is released.  Please share with your friends.
The NHL has several outlets to distribute news on the game and maintains player profile pages which include video highlights.
nhl.com and @nhl on twitter are two great options. Sign up for your favorite teams and get regular reports with them.
nhl.tv is the official page for the subcription service offered by the nhl. Never miss a Jagr game!
Canadian hockey outlets include
@sportsnet
@tsn
American hockey outlets include
@thehockeynews
@puckdaddy
@NBCSports
@theAthletic
Calgary Flames Website: 
Some Jagr-related  social media accounts:
@68Jagr on twitter.  This is the real site,  the one and only official Jaromir Jagr twitter account. Postings are rare, but worth the wait.
The two best Jagr facebook pages are:
https://www.facebook.com/68Jagr/?fref=ts
This is the page Jagr posts on, if he is going to post at all. With 700,000+ followers, he doesn't monitor the page that closely or answer messages, so don't be offended.
Another good facebook page is one produced by someone in the Czech Republic. It has more than 100,000 likes. This is not the official page, but it is very good.
https://www.facebook.com/JaromirJagrfan/?fref=nf
@NHLFlames is the official twitter of the Calgary Flames.
@EricFrancis writes for the @Calgaryherald.
@DidJagrPlay–Fan updates this post which monitors Jagr's games played as he chases Gordie Howe's all time games played record.
The following Flames Bloggers should have some Jagr content this season:
@FlamesView
@FlamesBlog
@NateDawgFTF
@FlamesLifeBlog
@GrimeBlogFlames
@BlogTheFlames
@Zdenek_Janda   Czech reporter who covers the NHL and reports on other news for the people of the Czech Republic, sometimes from the USA.
@Jsmidcro    Jan Smid was a US-based Czech reporter who collaborated on "Jagr", an autobiography in the late 90's detailing Jagr's early life and career in the NHL. Smid now covers international affairs but has remained friends with Jagr through the years. A good follow for his international news. The book is till available on Amazon and ebay, tells the early story of Jagr's life and career through 1996. Comes with a nice replica autograph inside so don't be fooled by claims that the book is hand-signed by Jagr unless there's a second, smaller signature somewhere.
@NHLHistoryGirl This hockey lover shares interesting informational tidbits about hockey and the NHL in general from scholarly research on hockey. She gets an A+ and First Star from us. How does she do it?
@MyRegularFace  She's another gem. Watches lots of games and gets up GIFs faster than nhl.com or anyone else out there.
Quant Hockey: Career stats updated game by game by a hockey lover in Europe. Site enables you to find career leaders in any offensive category by clicking on the category you are researching.
http://www.quanthockey.com/nhl/records/nhl-players-all-time-points-leaders.html
@rytiriKladno The Kladno Hockey Club: Before coming to the NHL Jagr played for this team in the Czech league as a teenager. Now he owns the team. It's in Czech  but some devices can translate to English.  Follow them at:
@HockeyCzech  National organization for hockey in the Czech Republic.
@hokej.cz is another Czech hockey site
@deniksport  very interested in Jagr and have several reporters who file stories on the Legend.
@radioprague
@CzechTV
Tomas Pokorny is a Czech hockey reporter and worth a twitter follow: @topicek
TRAVELLING JAGRS links
@68isgr8  is the twitter for The Traveling Jagrs. Clad in different Jagr jerseys and hair styles from 68's career, they gained league-wide recognition when they caught Jagr's attention during a pre-game skate of a Dallas Stars game in Canada during the 2012-2013 season. Since then, they convene at games in Western Canada and make a road trip or two every year, playing street hockey with locals, posing for hundreds of pictures, and having a good time with fans while honoring an all-time NHL legend. This is the official site for the group but is the personal twitter for Dallas Stars Jagr, aka Trevor Freeman
Speaking of pictures or any other inquiries–write to the Travelling Jagrs directly at thetravellingjagrs@gmail.com.
The group also has a website: http://www.travellingjagrs.com. Follow them on facebook at https://www.facebook.com/groups/695821573799933/
Ray Haluska aka Kladno Jagr, curator of the Jagr-O-Meter
Stay with Jagrometer.com as THE LEGEND CONTINUES