WELCOME TO SUNDAY BRUNCH FEATURING JAROMIR JAGR. This morning's entrees include goals 741 and 742 of his NHL career. The buffet line will  be up all day and beyond.  You can come back as many times as you wish so you don't have to consume it all at once.
For our Czech readers, something in your language that translates into any language but here's a little help: Zapasu is games. Golu is goals, Celkem is probably total, V presilovce is power play, v oslabeni  is shorthanded, v iteznych is game winning goals and v proudlouzeni is overtime.
SUNRISE–With more than a handful of NHL hopefuls in the lineup due to injuries, a cool and seasoned Cat saved the day with two goals as the Florida Panthers beat the Winnipeg Jets 3-1 Saturday night at BB&T Center.
Jaromir Jagr's two  goals first tied and then surpassed Brett Hull as the NHL's third all-time leading goal scorer. The pair was Jagr's  19th and 20th of the season and #741 and #742 of  #68's Hall-of-Fame career. Goal 741 tied Hull and the game for the Panthers while 742 was the insurance goal.
Check out the video from NHL.com to enjoy Jagr's delicious goals.
https://www.nhl.com/gamecenter/wpg-vs-fla/2016/02/20/2015020877/recap/box-score#game=2015020877,game_state=final,lock_state=final,game_tab=plays
The Panthers have suffered head injuries to critical players in recent weeks involving  center Aleksander Barkov, defensemen Eric Gudbranson and captain Willie Mitchell. Forward Brandon Pirri is out for  few weeks after injuring his ankle earlier in the week. Another injury to watch is left wing Jonathon Huberdeau, who left the Winnipeg game after crashing into the boards following a few shifts in the first period. Minus a few minor lapses the retooled Florida defense and forward lines have held opponents to one goal in regulation in each of the last three games using a lineup of players heavily influenced by players who started the season in the AHL with the team's Portland Pirates, the Panthers minor league team.
Jagr now has two goals in three games since turning 44 on Monday. With two more scores he will tie Chris Chelios with five post-44 goals. Gordie Howe is first with 15 goals scored after his 44th birthday. The goal also gave Jagr 19 seasons with 20 or more goals.
"Of course, I love the game. There's no reason to quit," Jagr said. "I love the game. There's a million people who wanted to be in my position. If I can play in the NHL, why not keep going?"
The Sun Sentinel, one of the Panthers primary newspapers, filed this story by beat writer Harvey Fialkov:
http://www.sun-sentinel.com/sports/florida-panthers/fl-florida-panthers-jets-0221-20160220-story.html
Also there were two stories from the Winnipeg papers.
http://stage.www.winnipegfreepress.com/sports/hockey/jets/Jets-and-Panthers-369556401.html
and this…
WABCNews7 in New York City reported that At 44 years and 5 days, Jagr became the oldest player in NHL history to score 20 goals in a season. Howe did so at 42 years and 324 days in 1970-71, according to Elias.
Jagr praising his #FlaPanthers teammates: "I've got 20 goals at age 44 because of them, so thank you guys."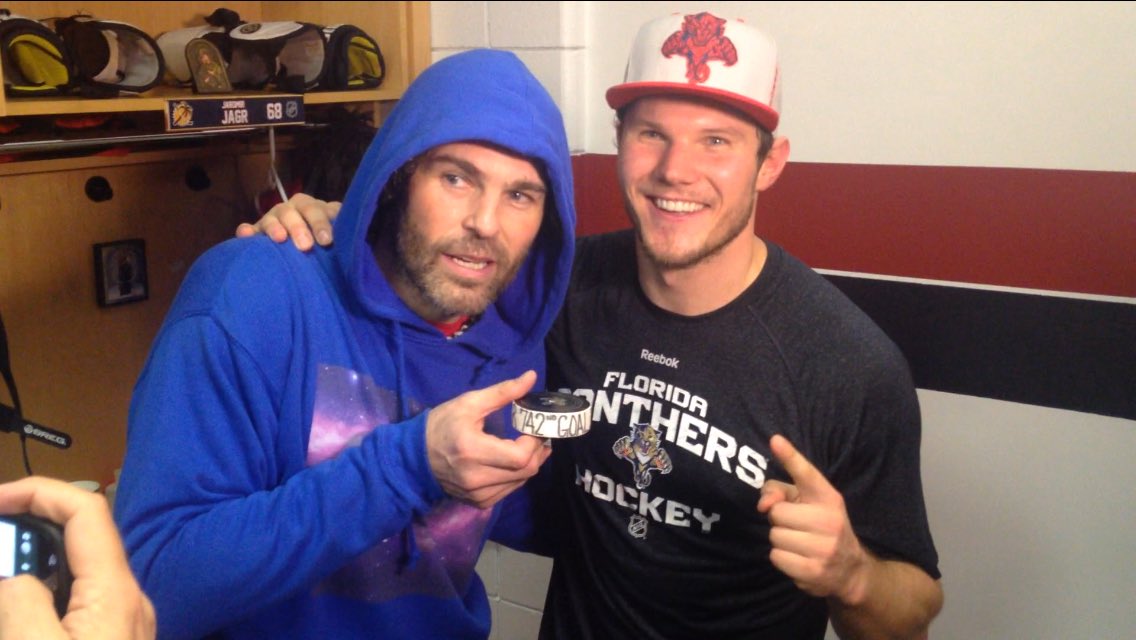 The win pulled the Panthers record on this homestand 2-2-1. The team has no games scheduled until Thursday when they host the Arizona Coyotes  at BB&T Center. Tickets for that and all Panthers home games can be secured through panthers.nhl.com.
As many fans as Jagr has around the world, some of the biggest are in the Florida Panthers lockerroom as  a rowdy atmosphere prevailed after the win and Jagr's latest milestone. Next on the hit parade: becoming the third all-time leading scorer (goals and assists). The two goals give Jagr 1845 points, only five behind Gordie Howe at 1850.
</div>
" data-component-context="tweet" data-you-follow="false" data-follows-you="false" data-you-block="false">

Thing that impresses me most about Jaromir Jagr is how he's found a way to score goals in several different eras of how the game was played.
The latest Jagr-O-Meter:
More  stories on Jagr's big night.
NHL.com: https://www.nhl.com/news/florida-panthers-jaromir-jagr-passes-brett-hull/c-279033252
Sportsnet, who has been celebrating Jagr all year: http://www.sportsnet.ca/hockey/nhl/jagr-i-love-the-game-if-i-can-play-why-not-keep-going/
Even in Nigeria, a country known more for emails from princes willing to make people millionaires for helping them out, an interesting translation of events surrounding Jagr's latest milestone appeared in "The Nigerian Teller." (We're trying to find out if there is even one ice rink in Nigeria).
The top 5 teams in the Atlantic Division gained points Saturday as Florida, Boston, Tampa Bay and Ottawa won their games, while Detroit picked up a point in a shootout loss to Ottawa.
JAGRometer.com is produced by Ray Haluska, aka Kladno Jagr, who has followed the career of 68 since his rookie year. Thank you for visiting and please return often and share our link with your friends. This all happens because….